Sign-up Procedure
To sign-up, you will need to have an email address and a cell phone that can receive SMS in order to receive the verification code.
1. Go to FranDo Apps and submit your email address.
https://app.frando.cloud/signup

2. Send the received verification code.

※If you do not receive the verification code, please check your email address is correct or check your spam box.
3. Enter your basic information.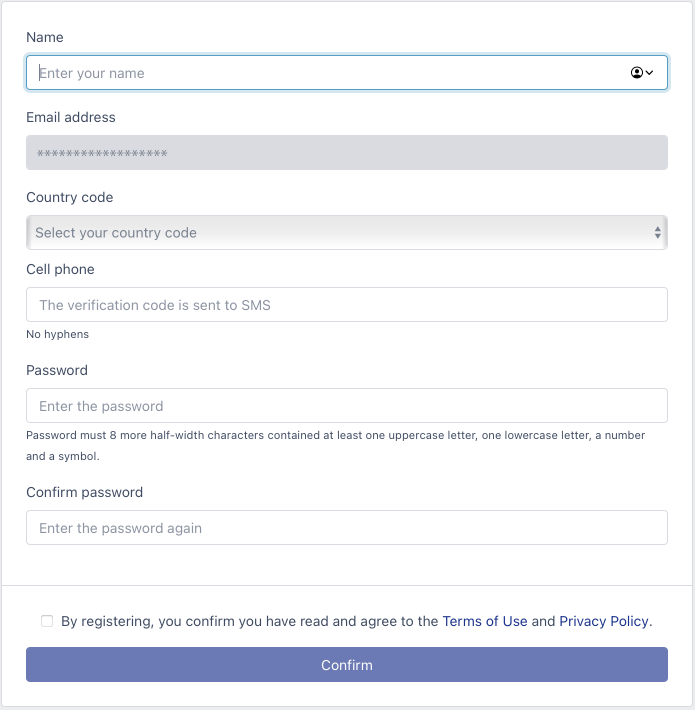 ※After selecting a country code, you will need to enter a cell phone number starting with zero.
※Passwords must be at least 8 characters in length and contain lowercase letters, uppercase letters, and symbols.
4. Confirm the information you have entered.
After pressing the button, an SMS verification code will be sent to your cell phone number.
5. Send the verification code you received by SMS.

※SMS may be delayed when there is heavy access. Please allow some time for the SMS to be received.
※You may not be able to receive SMS depending on your SMS reception settings. Please check with your service provider.
6. Set your profile information.
Items other than English Name/Category/City can be set later.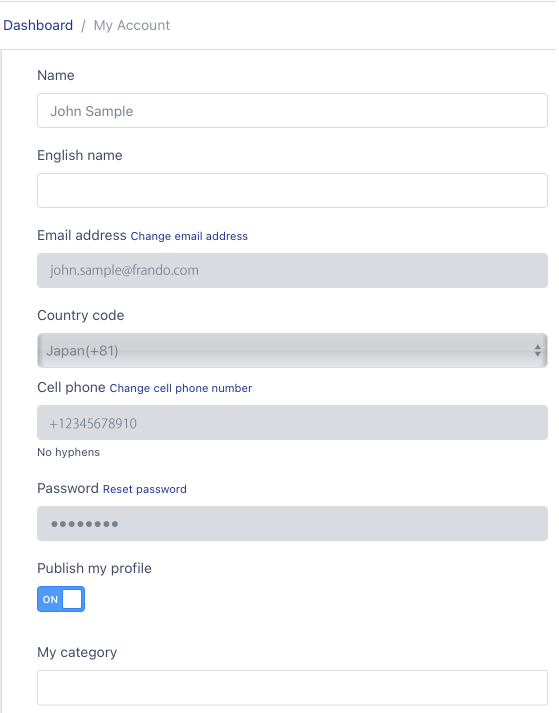 | | |
| --- | --- |
| My photo | Registering increases the likelihood that the other party will be interested. |
| Name | Settings you made when you signed up. |
| English name | Half-angle English characters |
| Email address | Settings you made when you signed up. |
| Country code | Settings you made when you signed up. |
| Cell phone | Settings you made when you signed up. |
| Password | Settings you made when you signed up. (Not displayed because it is encrypted.) |
| Publish my profile | Turn it off if you do not want it to appear in the user search results of Basic Apps. |
| My category | You can select up to five(5) categories. |
| My history | Registering increases the likelihood that the other party will be interested. |
| Message to other FranDo users | Registering increases the likelihood that the other party will be interested. |
| Budget | You can set an investment budget for franchise business and service introduction. |
| State/Region | As a center of business or activity |
| Country | Settings you made when you signed up. |
| Allow contact requests | If you do not want to accept all contact requests, turn the setting off. |
| Allowed user categories | If you want to receive contact requests only from a specific user category, select the category here. |
| Receive messages from FranDo | Important messages may be received even if you are set to OFF. |
| Receive contact request emails | If you only want to receive in-app notifications, you can turn this off to stop receiving emails. |
| Language | You can choose English or Japanese. |
| Timezone | The time zone of the country/region you signed up for will be set. |
You can select up to five(5) categories.
| | |
| --- | --- |
| Brand Owner | Owners and managers of brand/service providers, including franchisor. |
| Entrepreneur | Those who are considering starting their own business in the near future, regardless of the method. |
| Start-Up | You belong to an organization and are considering introducing a new business or solution service. |
| Franchisee | Those who are currently operating a business as a franchisee or distributor. |
| Investor | Those who are looking to invest in or support a promising business or entrepreneur. |
| Consultant/Expert | Those who provide consulting services in their area of expertise, regardless of industry. |
| Supplier | Those who provide products or services to businesses. |
| Marketer | Those who provide promotion and customer attraction support services such as direct marketing and web marketing. |
| Organizer | Those engaged in organizations such as associations, groups, trade fairs, etc. |
| Developer | For those in charge of store and office development or leasing of commercial facilities, etc. |
| Recruiter | Those who provide human resources and education services to businesses, regardless of their employment status. |
| Professional | Those who possess a national certification or equivalent and provides practical support services. |
How to use Basic Apps
1. User search
You can search for users by specifying various criteria.

The search field "Contact Request" defaults to "Connected" and "Allow".
Connected:
The user who has approved the contact request you sent or the contact request you received.
Allow:
Users who can make contact requests.
Decline:
Users for whom contact requests are not possible.
2. Contact request
When you click the Contact Request button, the other party will receive a notification that you have made a request.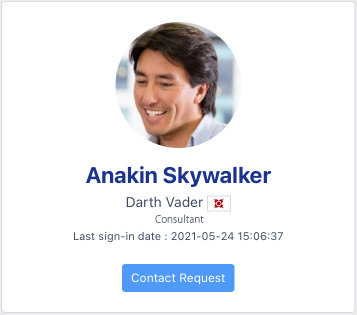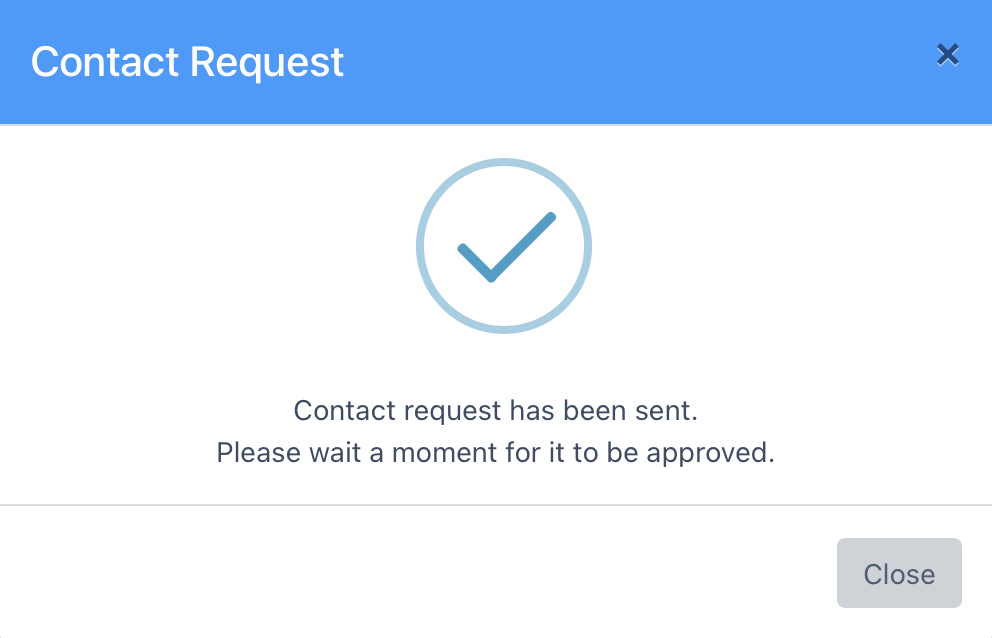 3. Approve your request
The user who received your request will check your profile.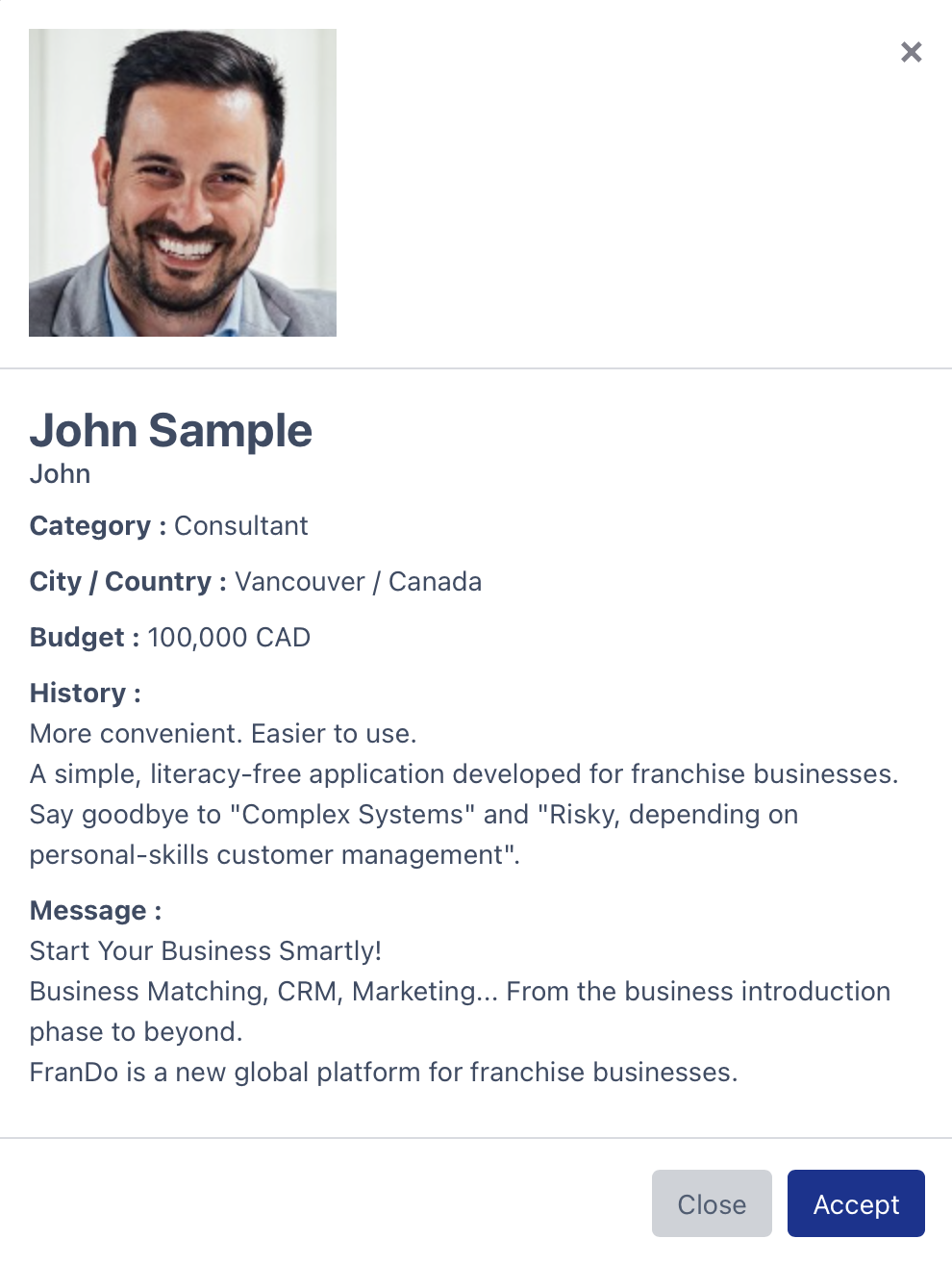 4. Starting Smart Messages
You will receive a notification when your request has been approved.

Click on the notification message to start the Smart Message.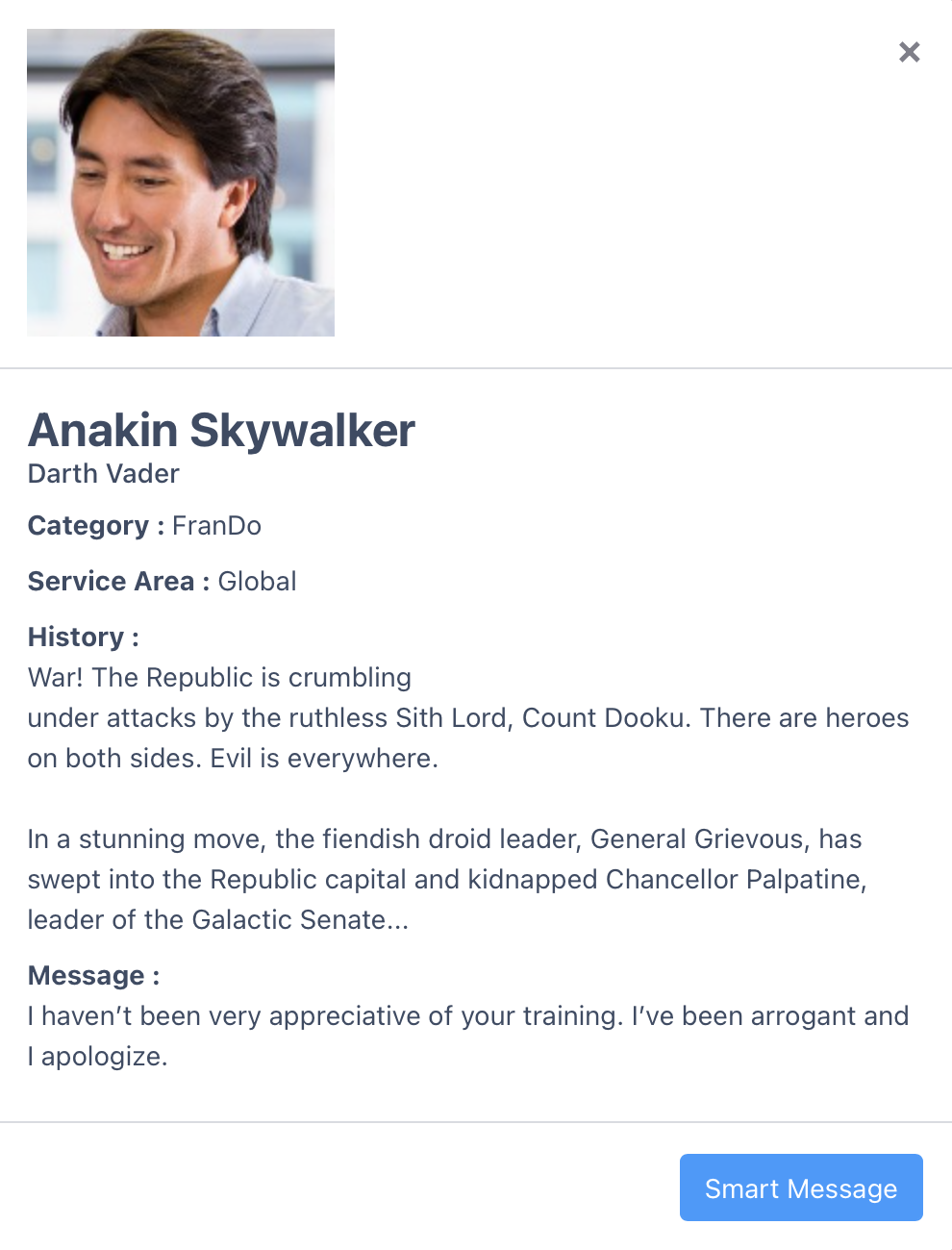 Smart Messages allows you to enjoy text chatting, use URL links and some emoji.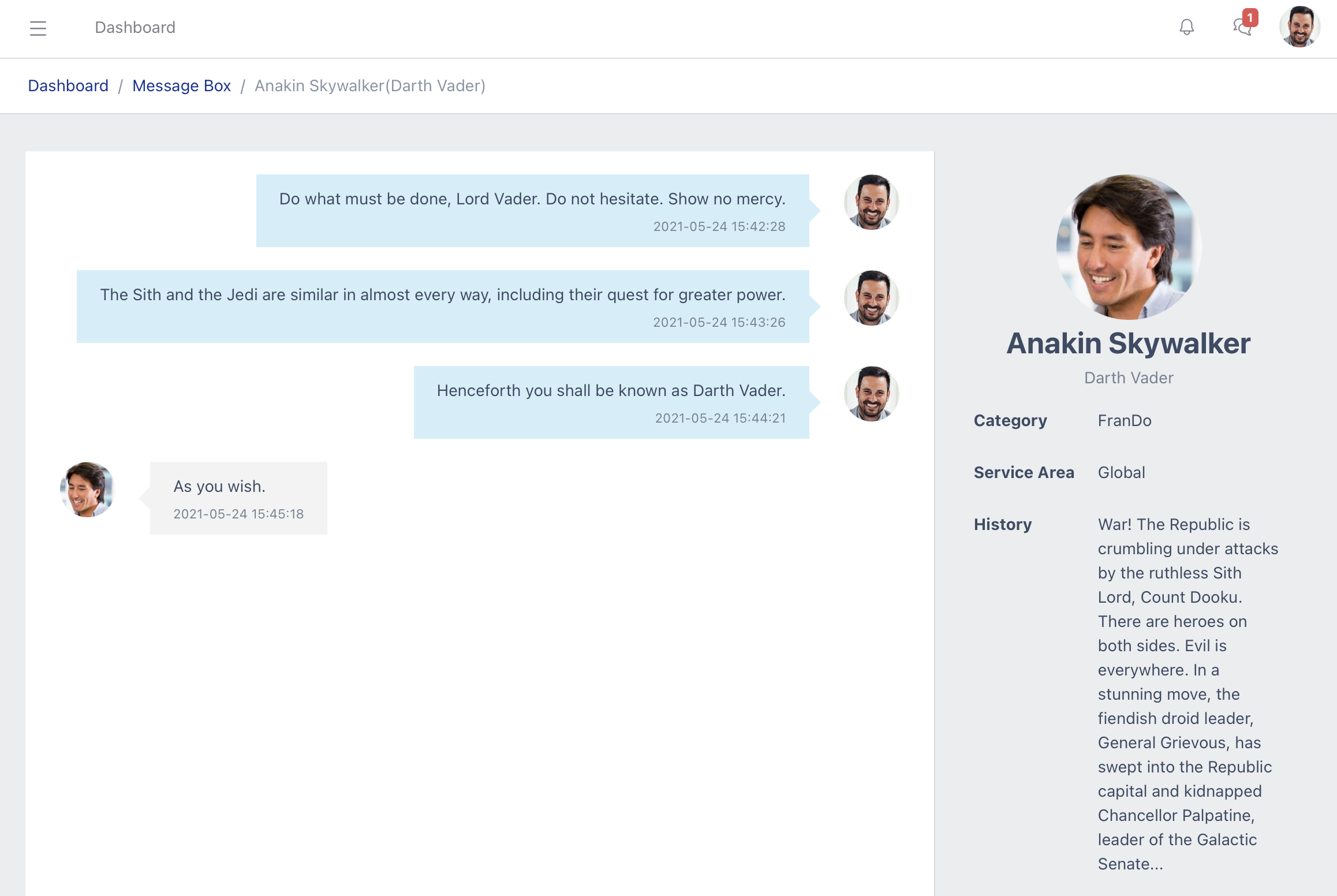 5. Get a second opinion
This function allows you to search for and contact second opinions (industry consultants and experts) in the same way as the user search. Click here to contact second opinions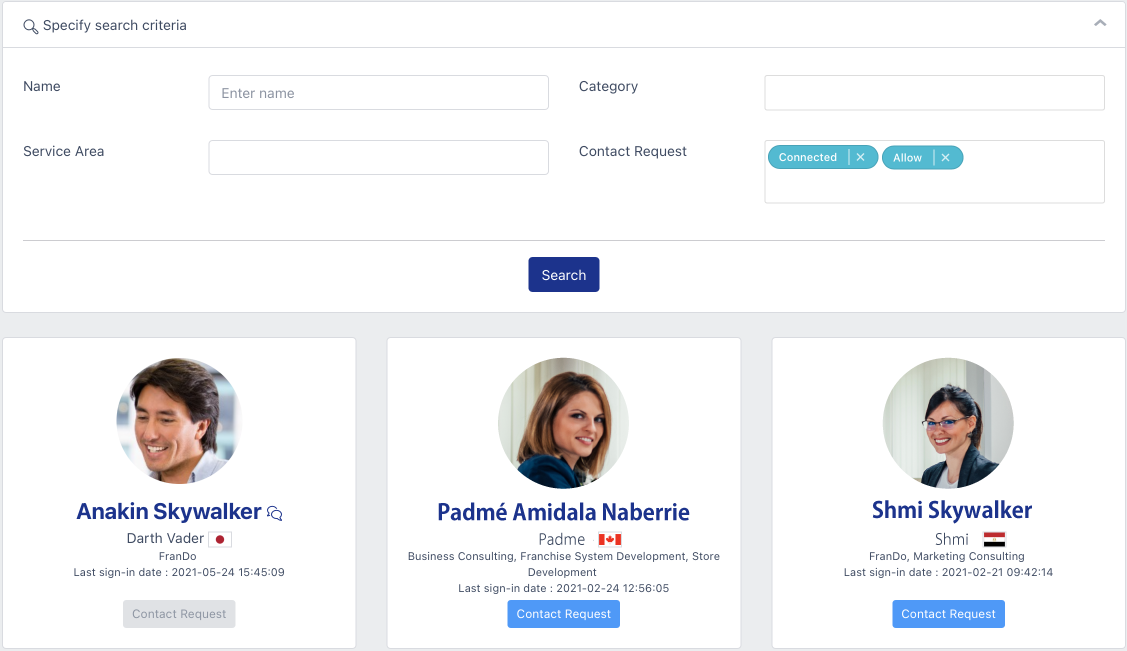 6. Search a brand/service
This function allows users to search not only for users, but also for franchise brand and service information. This function will be available soon.
7. Search an event
This is a new feature scheduled for the next major update.
Extensions FAQ
Do you offer a free trial?
All of our paid services offer a 14-day free trial period, so please feel free to use them.
Are there any initial or additional fees?
There is no upfront cost to install FranDo. There are no additional fees except for optional services such as adding more users, upgrading to a higher plan, and consulting.
Do you have a contract period?
You can choose to pay annually or monthly in advance. The annual payment is valid for 12 months, and the monthly payment is valid for one month, both of which are automatically renewed. Due to the nature of the product, no refunds will be made even if you stop using it during the term. Please refer to the Terms of Use for details.
What payment methods do you accept?
Credit card(VISA, Master, JCB, AMEX, Diners)or Bank transfer.
When will the credit card payment be processed?
The payment is based on the date and time 14 days after the start of the free trial (JST). Therefore, if you apply for the service outside of Japan, there will be a difference between the local time and the actual available period due to time differences.
What are Lifecycle Stage and Lead Status?
Please see the glossary.
What are the factors that cause Marketing Email to bounce?
If you send an email to an email address that does not exist or is temporarily disabled, an "Error email (Bounced email)" will be returned, and you can identify the cause by referring to the "error code" in the email.
421:
domain Service not available, closing transmission channel
450:
Requested mail action not taken: mailbox unavailable
451:
Requested action aborted: local error in processing
452:
Requested action not taken: insufficient system storage
500:
Syntax error, command unrecognized
501:
Syntax error in parameters or arguments
502:
Command not implemented
503:
Bad sequence of commands
504:
Command parameter not implemented
550:
Requested action not taken: mailbox unavailable
551:
User not local; please try [forward-path]
552:
Requested mail action aborted: exceeded storage allocation
552:
Requested action not taken: mailbox name not allowed
554:
Transaction failed